Do You Need A Bed Bug Killer In Hartford, New Haven, Waterbury, or throughout CT?
Are you currently suffering from a bed bug infestation in CT? You're not alone. The bed bug problem in Connecticut has become alarming high in recent years. For 2020, Hartford has already been named in the Top 50 worst cities in the US for bed bug infestation.  To make matters worse, if bed bugs are not properly exterminated the first time, a reinvestation is all but guaranteed to occur.  This can be downright frustrating and you may spend weeks, months, even years before finally fully eradicating the bed bugs from your home or business. The best bet to being rid of these pests for good is to hire a professional bed bug exterminator in CT. A professional bed bug exterminator is trained in identifying bed bugs, understanding their life cycle, and is equipped with the knowledge and expertise to kill all life stages of the bed bugs and prevent reinfection.  Bed Bug Exterminators of CT guarantees our work. Our proven extermination methods effectively kill bed bug eggs, nymphs and adults.
Bed Bug Inspection
While they are great at hiding in pin sized openings and crevices, it's fairly easy to determine if you have bed bugs. If your or your family are experiencing a red, itchy rash that is otherwise of unknown origin, bed bugs are the likely culprit. They are nocturnal by nature so they are not often seen, but they do leave behind fecal matter and blood spots that are tell-tale signs of infestation. If you observe black or rust colored spots on your mattress or bedding, you have bed bugs.
Although severe infestations can be easier to detect, attempting to identify a less severe infestation can be immensely difficult. Sometimes, it takes a trained eye or even a specially trained canine to confirm the presence of bedbugs.
If you believe that you are experiencing a bed bug infestation, one of our bedbug exterminators will come to your home or commercial property and thoroughly inspect it. If they confirm an infestation, they will provide you with a free, no obligation quote and if desired, you can start a treatment plan right then, on the spot.
"Don't Let The Bed Bugs Bite"
Did you know bedbugs feed (on your skin and blood) every 10 days?  Time is of the essence if you don't want to be their next meal.  Call or complete our online quote request today!
.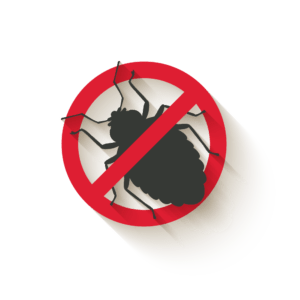 Bed Bug Treatments In CT
Our CT bed bug exterminators offer different treatment methods to accomodate our customer's preference. While both methods are effective at killing bed bugs, the number of treatments, time frame and cost may vary.  Our bed bug exterminator will advise you of your options and recommend the strategy that best suits your needs and budget.
Killing Bed Bugs With Pesticides –

 

Pesticides have been used for many years to kill a variety of different insects and pests. In the past, they were the preferred solution for bedbugs as well. Today, pesticides are still commonly used in some applications, but many customers prefer the more innovative heat technique. If you choose to have our exterminator use pesticides, you can rest assured that we only use chemicals that are environmentally friendly and safe for you, your family, and your pets.
Killing Bed Bugs With Heat –

 

The latest technique for eliminating bedbugs is heat. Specialized heat machines are introduced to the home and quickly heat up the home's interior to a temperature that kills all lifestages of the bed bugs. This option is usually be a little more expensive than the pesticide method, but it is undeniably a much more reliable and convenient option than its chemical-based alternative.
Follow Up Visit 
Whichever method is selected, bedbug exterminations are not always 100% successful on the first treatment. A few stragglers can sometimes manage to survive. Our bedbug extermination service automatically includes a follow up visit to reinspect your home or business. This will help to ensure that the extermination was effective. If there is any trace of survivors, the technician will schedule another treatment to ensure that the bedbugs are completely eradicated.