Bed Bug Treatment Options
Not all infestations are the same so it stands to reason that there is not a one-size-fits-all approach to eliminating bed bugs. This makes the decision of whether to use heat or conventional pesticide treatments a confusing one. Sometimes it's best to use heat and other times, it's best to use conventional treatments. And there are even times when both are extermination methods are used concurrently. 
While the customer's preference and budget are considerations in selecting which extermination method to use, our licensed exterminators will be the most knowledgeable as to which strategy will successfully eradicate bed bugs from your home or building.
Bed Bug Thermal Heat Treatments
Whole room heat treatments involve specialty equipment that is brought in by a Professional Exterminator or Pest Control Company. The heat equipment is used to raise the temperature in your home to kill the bed bugs.  This option is perfect for home and business owners who want a solution that is 100% eco-friendly, odorless, and will not leave any residuals.   Heat kills all life stages of bed bugs, from egg to adult. Bed bugs and eggs die within 90 minutes exposure at 118°F (48°C) or immediately at 122°F (50°C).   Heat radiates into walls and belongings so this method kills bed bugs in places that are hard to reach with insecticides. Also, heat treatments fully deal with all the bed bugs in a structure, even kills bugs that have developed a chemical-resistant exterior skin, referred to as a cuticle.
This method promises the complete removal of bed bugs along with other bacteria that cannot survive in temperatures that high. The whole process is carried out in 6-7 hours, and does not requires multiple treatments so your bugs will be gone in a single day, instead of weeks. That means that the occupants of your home or business don't need to be displaced multiple times over the course of a few months. And, they won't have to be bothered by the repeat preparation needed before each visit. This makes heat a very convenient way to get rid of bed bugs.
Bed Bug heat treatment can cost anywhere from $2000 to $4000.
"Don't Let The Bed Bugs Bite"
Did you know bedbugs feed (on your skin and blood) every 10 days?  Time is of the essence if you don't want to be their next meal.  Call or complete our online quote request today!
.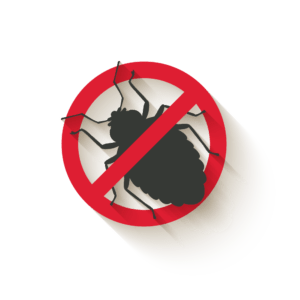 Bed Bug Pesticide Treatments In CT
 While each treatment method has its own set of pros and cons, pesticide/insecticide treatments are consistently less expensive than heat treatments. If you need a specific price, we will gladly provide a free, no-obligation quote along with our professional recommendation.
Pesticide treatments are often the best choice for small infestations, especially when combined with canine bed bug inspectors, mattress encasements, HEPA vacuums, and other direct treatment options.
When the chemicals are administered by a certified professional, it is safe to reenter a home or structure that has been treated in as little as 4 hours. 
Pesticide treatment for bed bugs will usually require multiple applications, with a waiting period of 2-3 weeks between each treatment.  Each treatment will require some degree of preparation on your part, e.g. decluttering, removing delicate items that may be damaged by the chemicals, etc. All occupants, including pets, will need to be out of the home during each pesticide treatment and for several hours following each application.
 Call BedBug Exterminators of CT
Heat treatments and pesticide treatments each have their advantages and disadvantages, but your bed bug exterminator will guide you through the options and help find the best fit for your needs. If you are in Connecticut and need a bed bug exterminator, give us a call for immediate assistance.